In 1957 Nicola Rossi Lemeni was married to the celebrated Romanian Soprano Virginia Zeani and this is her story: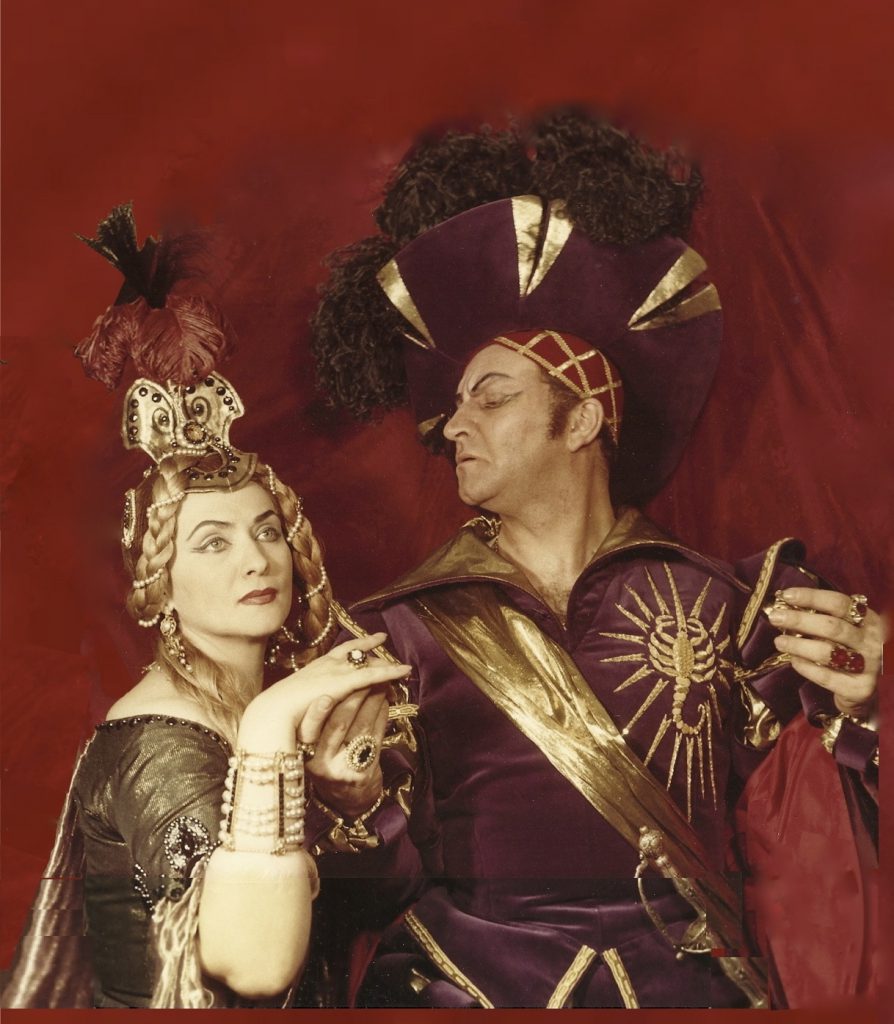 Virginia Zeani was born Virginia Zehan, on or about the 21st October 1925, in Solovastru, a village in central Transylvania, Romania.  From an early age she was always singing, at home, at school and in choirs, and at the age of nine she fell in love with opera after seeing a production of Madama Butterfly. At thirteen she began taking serious vocal lessons with Lucia Anghel in Bucharest who, because of the richness of her sound, considered her to be a mezzo soprano. Unconvinced she moved on to study with the famous coloratura soprano Lydia Lipkowska who swiftly and expertly opened up Zeani's full range and moulded her into a fine lirico leggero soprano.  She also coached her in the complete roles of Violetta, Mimi, Marguerite and Massenet's Manon, which became the calling cards of her early career.
Her singing for the Italian Cultural Society in Bucharest so impressed the Italian Ambassador, the Italian Consul and the Press Attaché that they arranged permission for her to study in Italy.  In March 1947  aged twenty one, and with an established range from low g to top f,  she travelled to Milan to work with the legendary veteran tenor Aureliano Pertile.  In addition to the great help he gave her,  Zeani also learned from Toscanini's coaches at La Scala.  The traditions passed on to her by Narducci, Fornarini, Gennai and Tonini in  Milan and by Piazza,  Marini and especially Luigi Ricci, the former repetiteur of Puccini and Mascagni, in Rome aided her dramatic ability to create characters with her voice.
Pertile considered her vocally well prepared and ready to make her debut and he encouraged her to audition for some of the regional opera companies.  In May 1948 an opportunity arose when the soprano Margherita Carosio fell ill and the Teatro Duse in Bologna needed a replacement.  So, at the age of twenty two and with no previous stage experience, Zeani made her professional debut in what was to become her greatest role,  that of Violetta in La traviata.  The performance was so successful that the stunned conductor immediately offered her a tour of thirty more performances. Violetta was a role she would sing over 600 times around the world during her career. Her partner that evening was tenor Arrigo Pola (Alfredo), the voice teacher of Luciano Pavarotti.
Her career was at first primarily focused in Italy, where she sang in many of the regional opera houses. She describes these years as "making the bones", singing many performances of big roles in smaller houses to gain strength and experience.
In January 1950 she was invited to star in a three month "tournee", or season, in Cairo and  Alexandria in Egypt, singing Violetta, Nedda, Michaela and most significantly Adina in L'elisir d'amore opposite the great Italian tenor Beniamino Gigli. She was 24, he was 60.
In 1952 came an important step when, again at short notice, conductor Tullio Serafin chose her to replace the great Maria Meneghini Callas as Elvira in i Puritani in the Teatro Communale in Florence.
http://www.youtube.com/watch?v=BRvGYP2uvds
Soon her growing reputation led to invitations to many of the major opera houses of Europe, and Violetta was her debut role in Vienna and Paris.  In 1953 in celebration of the Coronation of Queen Elizabeth II she undertook a major tour of the British Isles singing the roles of Violetta and Mimi.
Having declined their initial invitation because of a prior commitment, she eventually made her debut at La Scala, Milan in 1956, as Cleopatra in Handel's Giulio Cesare.   The cast included Franco Corelli and Giulietta Simionato and in the title role the famous bass Nicola Rossi Lemeni with whom she had briefly sung in i Puritani in Florence.  She had only previously seen him on stage dressed as an older man and had not realised he was in his thirties.  Within a week he asked her to marry him and within three weeks she accepted his proposal.  The couple were married in Rome the next spring.
Before this, in January 1957, came the highly successful world premiere at La Scala of Poulenc's newly composed opera the Dialogues des Carmelites, in which, chosen especially by Poulenc himself, Zeani sang the leading role of Blanche. Shortly afterwards she appeared in London as Violetta and as Lucia di Lammermoor in the first post-war performances at the Stoll Theatre of what was at the time considered by sceptical critics to be an out-of-date curiosity.
http://www.youtube.com/watch?v=R2i4iIbHeyc&list=PLFFC9649886F9530A&feature=view_all
So impressive was Zeani's success as Lucia that Covent Garden shook off their previous doubts about the opera and two years later went ahead with the ground breaking Zeffirelli production which made Joan Sutherland a star.
Zeani was now in great demand world-wide and regularly sang in most of the European capitals as well as in Russia, South America and South Africa.  Despite having appeared in several successful tours of Great Britain she had yet to appear at the Royal Opera House Covent Garden. Her debut eventually came in January 1960, again as an emergency replacement but this time for the now justly famous Joan Sutherland.  She recalls arriving at the Royal Opera House at 4pm, after a sleepless night and flights from Vienna via Frankfurt. There was just time for costume fittings and a brief rest before she walked, for the very first time, onto the Covent Garden stage. She had never before met any of the cast and had to ask "Which one is my Alfredo?" That remarkable performance was broadcast,  world-wide and has been preserved on disc and posted on YouTube in four parts.
http://www.youtube.com/watch?v=DpoCB0Hl6lE&list=PLkB3dLZrMrmBgIG5O4ir662TkBHYhuUoY&feature=view_all
Zeani also appeared in Barcelona, Leningrad,  Moscow,  Philadelphia,  Bucharest etc. and eventually in the Metropolitan Opera House New York as Violetta in 1966.
In her early career she achieved considerable success in bel canto roles such as Lucia, Gilda in Rigoletto, Elvira in i Puritani and the title role in Linda di Chamonix, and lighter lyric roles such as Massenet's Manon and Marguerite in Gounod's Faust.  As her voice matured she gradually turned to more dramatic roles including Puccini's Manon Lescaut, Madama Butterfly and Tosca, and verismo operas including Fedora and Adriana Lecouvreur. When she was forty the conductor Zubin Mehta, with whom she had sung many Violettas,  suggested she was now ready to sing Aida and, under his baton, she gave her first performance in Montreal opposite Jon Vickers as Radames.
She sang several of the heavier Verdi roles including  Aida, Desdemona, Elisabetta, Alzira and Lina in Stiffelio, as well as two Wagnerian heroines, Elsa in Lohengrin and Senta in The Flying Dutchman.  She successfully performed Poulenc's solo masterpiece for soprano, La Voix Humaine, both in Italian and in the original French and in 1972 at the Spoleto Festival she enjoyed one of her greatest successes as Magda in Gian Carlo Menotti's The Consul.
http://www.youtube.com/watch?v=NmxrtmapNYQ
In all she sang some 69 major roles and only ever cancelled two performances.
She sang with many famous colleagues including tenors Beniamino Gigli, Mario Filippeschi, Ferruccio Tagliavini, Carlo Bergonzi, Guy Chauvet, Nicolai Gedda, Alfredo Kraus, Gianni Raimondi and Jon Vickers; the young Luciano Pavarotti and Placido Domingo sang several of their debut performances with her;  mezzo sopranos Giulietta Simionato, Fedora Barbieri, Shirley Verrett, Lili Chookasian, Grace Bumbry,  baritones Gino Bechi. Tito Gobbi, Nicolae Herlea and basses Nicola Rossi Lemeni, Boris Christoff, Cesare Siepi,  etc. She also worked with many distinguished conductors including Tullio Serafin, Zubin Mehta and Herbert von Karajan
A warm-voiced singer with stunning looks and an affecting stage presence, she made few commercial recordings, but many of her live performances exist as bootleg recordings and YouTube postings.
Zeani retired from the operatic stage in 1982, but, together with her husband, Nicola Rossi Lemeni, in  1980 began to teach singing at the music school in Indiana University in Bloomington, Indiana. The couple were later both honoured as "Distinguished Professors". After her husband's death in 1991 she taught at IU for many more years before moving in 2002 to Florida. In 2010, having now taught for thirty years, the magazine Classical Singer named her Teacher of the Year.
She attracted admiring comments from many of her colleagues.  These words of appreciation appear in the book "Tributes to a Legendary Soprano" by Steven Smith,  and more are quoted under Tributes and Awards:
Magda Olivero  "La Virginia Zeani meravigliosa cantante con inobliabile ricordo".
Teresa Stratas   "You were just so ravishingly beautiful…I can still feel the throb of your heart in that perfect vibrato ….. Your Violetta is still the most beautiful I have ever seen or heard"
Joan Sutherland and Richard Bonynge  "We can never forget the extraordinary thrill of hearing you for the first time ….. You have no idea the profound impression you made on us ….. That voice has stayed with us all these years"
Nelly Miricioiu     "Virginia Zeani represents for me a true national heroine ….. her legacy is incomparable"
Diana Soviero     "Virginia Zeani.  She was not only an incredible vocal artist and an amazing singing actress but she had such a unique and interesting voice, and the skill and instinct to manipulate it for tremendous effect"
Brian Large     "La traviata London 1960 …..  She brought to the role (Violetta) acting of such intensity and subtlety that made all previous performances of the opera fade from memory …..  Here was magic that only a great artist can make"
Zubin Mehta     "Virginia Zeani was one of the most important sopranos in the world of opera….."
Eugenia Moldoveanu     "My generation and I adored Virginia Zeani.  She was our idol, and for us developing artists she was a dream living in our young hearts"
—–
Giovanni Battista Meneghini, former husband of Maria Callas, in conversation with Virginia Zeani    "Virginia, I have to tell you, you are one of the very few sopranos my wife is frightened of"
—–
Amongst Zeani's most famous pupils are Sylvia McNair, Angela Brown, Susan Patterson, Stephen Mark Brown,  Elizabeth Futral, Marilyn Mims, Vivica Genaux,  Mark Nicolson,  Heidi Klassen, James Valenti, Elina Garanca and Ailyn Perez. She has also been a judge in many prestigious vocal competitions most notably those at the Metropolitan Opera New York.
She is the recipient of many major awards including Commendatore of the Italian Republic.  In 2010 King Michael of Romania awarded her his highest honour "Nihil Sine Deo"  and in May 2011 she travelled to the Elisabeta Palace in Bucharest where he invested her with the award.
http://www.youtube.com/watch?v=eXouF1Z2uuk&feature=plcp
With the rise of other Romanian sopranos, most notably Angela Gheorghiu, who always refers to Zeani as her "inspiration", interest in Virginia Zeani has grown.  As her live recordings have become more accessible,  both on CD and in internet postings, and as her students talk about her peerless teaching, interest in her career has burgeoned.  She was the subject of a long article by John Tolansky in Opera Magazine in November 2009, entitled "Virginia Zeani the Discreet Legend".  A more extensive  piece followed and In October 2012 she was honoured by being the subject of the very first article, again by John Tolansky, to be published by the Hampsong Foundation's Archive Series "Singers on Singing".
http://hampsongfoundation.org/tag/virginia-zeani/
She continues to teach promising young singers at her home in Florida.
.entry-content
#post-##
#content
#container